The 'Month of Love' is here. For that special someone in your life, here are just a few ways in which we can help you share your heart sweetly.
And don't forget our extended hours on Friday 2/14: 7AM to 12 midnight.
Pre-Order Now: 407.500.CAKE
Strawberry Cheesecake Heart Pastry
Light cheesecake mousse filled with tangy lemon curd and house-made strawberry mousse on a strawberry cake base, enveloped in a white chocolate glaçage, finished with a white chocolate feather and dried rose petal. After all, your heart knows the way. Run in that direction. R U N.
Berries and Cream Signature Cake
Fluffy strawberry cake intertwined with bright raspberry pâte de fruit, zesty lemon curd and house-made strawberry jam veiled in a light vanilla bean white chocolate mousse and a vibrant, red-colored white chocolate glaçage topped with fresh strawberries, blueberries, raspberries and edible 23-karat gold-leaf. (Available as a whole cake serving 8-10 guests beginning February 10)
Strawberry Champagne Petite Cake
Moist strawberry cake layered and topped with a light, champagne buttercream, finished with piped meringue, pate de fruit heart and lustered sprinkles. Because all they need is love - oh, and one of these individual-sized beauties.
Valentine's Snack Cake
This cutie, though! Vibrant, cocoa-infused cake layered with with delectable marshmallow cream filling, hand-dipped in silky milk chocolate, topped with just a touch of Valentine's magic. (We hear it's Cupid's favorite)
Conversation Heart Cookie
It's all about the heart to heart conversation, right? Our classic sugar cookie says it best.
Strawberries and Cream Cookie
A decadent sugar cookie with Valrhona strawberry and white chocolates, topped with a swirl of luscious, house-made strawberry buttercream.
'Be My Valentine' Cookie
Sprinkle a little love wherever you go. This whimsical version of our classic sugar cookie is sure to do just that!
Raspberry Champagne Doughnut
Heart-shaped brioche donut filled with tangy raspberry jam, topped with a champagne glaze, garnished with gold and a beautiful fresh raspberry 'kiss'. (Available Thursday, February 13 - Sunday, February16)
Sprinkle Doughnut
24-hour raised buttermilk brioche, vanilla glazed and topped with whimsical Valentine's sprinkles. As they say, "donut forget the office".
Strawberry Chocolate Cream Puff
Light, choux pastry stuffed with our house-made chocolate brownie, strawberry jam, a rich chocolate crunch and house-made strawberry mousse, finished with a dried berry crisp. It is, after all, Strawberry season here in Florida - and this annual favorite is love at first bite.
Strawberry Classic Cake
Strawberry infused cake layered with house-made jam, filled and topped with our house-made strawberry buttercream, finished with fresh strawberries adorned with edible 23-karat gold flakes and our signature chocolate curls. (Available by-the-slice or by pre-order as a whole cake serving 10-12 guests.)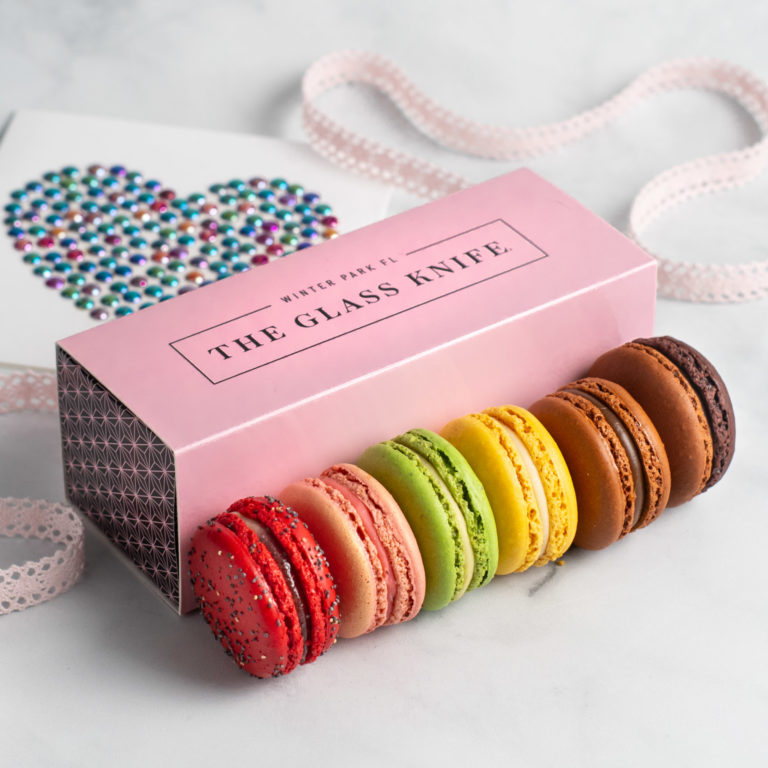 Macarons
The perfect way to say "Je t'aime". This pre-set box of macarons includes some of our most popular flavors: Strawberry Verbena, Champagne, Pistachio, Lemon, Salted Caramel and Chocolate Hazelnut. C'est magnifique!
Wanting to share a LOT of love?
Pre-order Your Valentine's Selections
For quantities of one (1) dozen or more of donuts, cookies and pastries, we require at least 3-days advance order notice. If you have any questions or would like to place a pre-order, please give us a call at 407-500-CAKE.
Have a Question?